Tattoos... whenever you like them or dislike them, you have to admit that sometimes when you see a well-done tattoo, you just stop and go "wow, that's beautiful!"
like those ones:
The worst I've seen:
http://i962.photobucket.com/albums/ae106...C06036.jpg
WTF? so putting a giant eyeball on the side of your neck.... who the hell thinks that is a good idea?
putting a cartoony zombie girl on your arm... yeah, I don't see him still wanting that thing on his arm in a few years.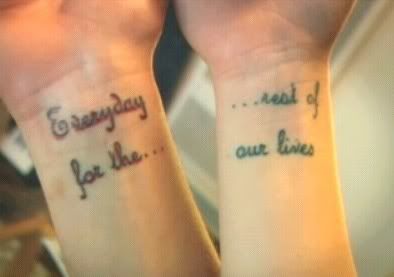 at first this doesn't seem so bad.. but when I start thinking about what the person was thinking when she got this tattoo... and it starts having some unfortunate implications, especially with the way it's written on her wrists.
So what's the best and the worst tattoos that you've ever seen?
Quote: "A society that puts equality… ahead of freedom will end up with neither equality or freedom…a society that puts freedom first will, as a happy by-product, end up with both greater freedom and greater equality." --Milton Friedman
relax. it's only the internet!