I'm just wondering if there is anyone closely following what is happening on the Big Island, just below the Kilauea crater.  I've been following this very closely, and using almost all of my spare time studying things and even going back to past eruptions that have totally destroyed two entire subdivisions several years before this event.  
If anyone's interested in commenting and contributing to the discussion I will gladly post as much information on what I have gathered since I started following this series of events on the eight of this month.  There's a lot of great stuff here.  
Anyway, here's today's USGS map of the East Rift Zone, where all of the recent activity has been taking place.  And note the older lava flow fields and their dates of discharge.   1955 and 1960 were good vintage years for Lady Pele, but out of the map and going back all the way to Kilauea, there are many other runs that caused a great deal of damage.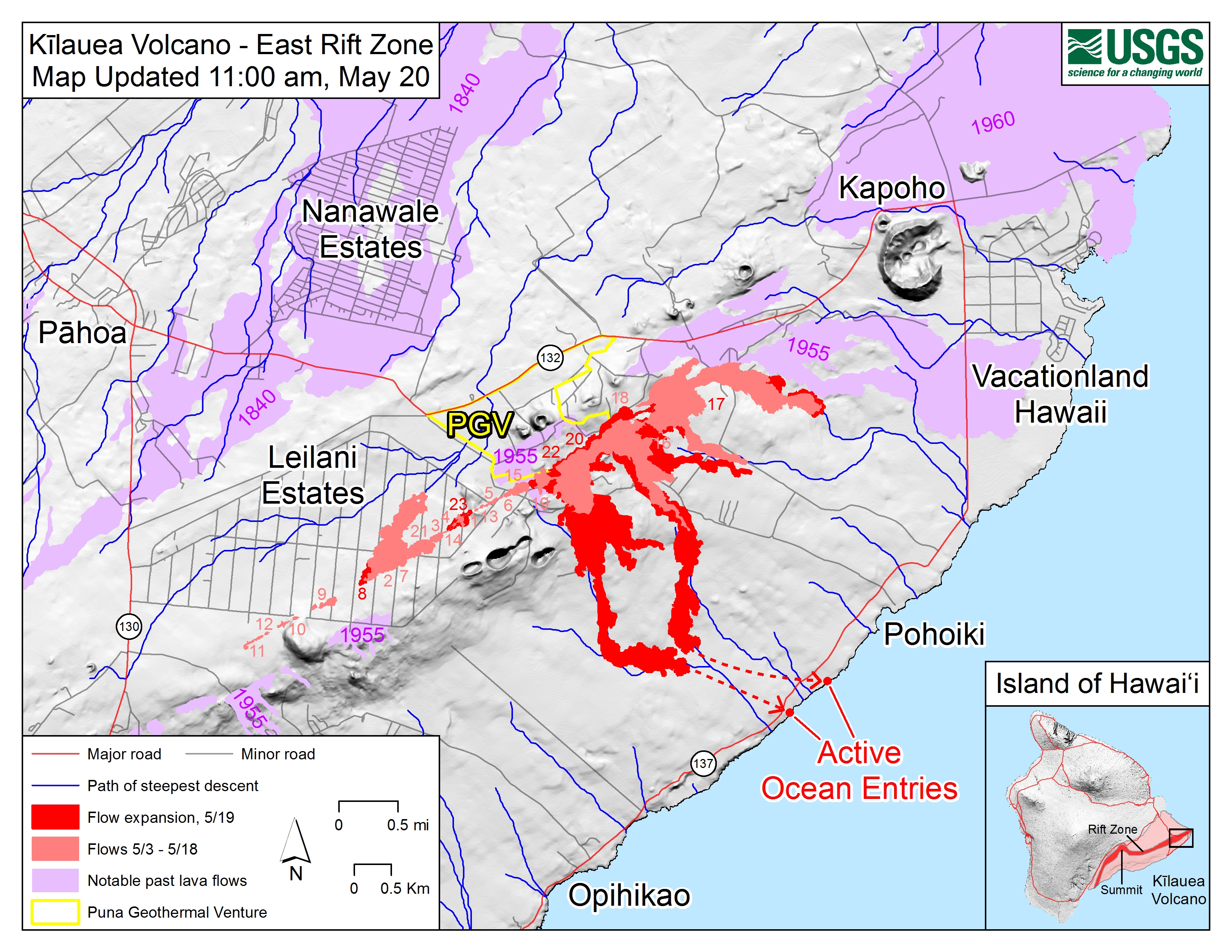 This round began on the 3rd of May, and was really nothing but a bunch of cracks running diagonally across Leilani Estates.  They quickly began smoking and some became active, with lava spurting out.   For a while it looked like an ever growing river of lava would be taking off in a northeastward direction, and destroying more homes.  At that time were were fifteen officially active fissures, and all within the Leilani subdivision.  
But by the 13th, new ones, 16 and 17 had sprung up in open land outside the subdivision and just north of another smaller subdivision across the main road.   And that's when things really started getting more than just a little interesting.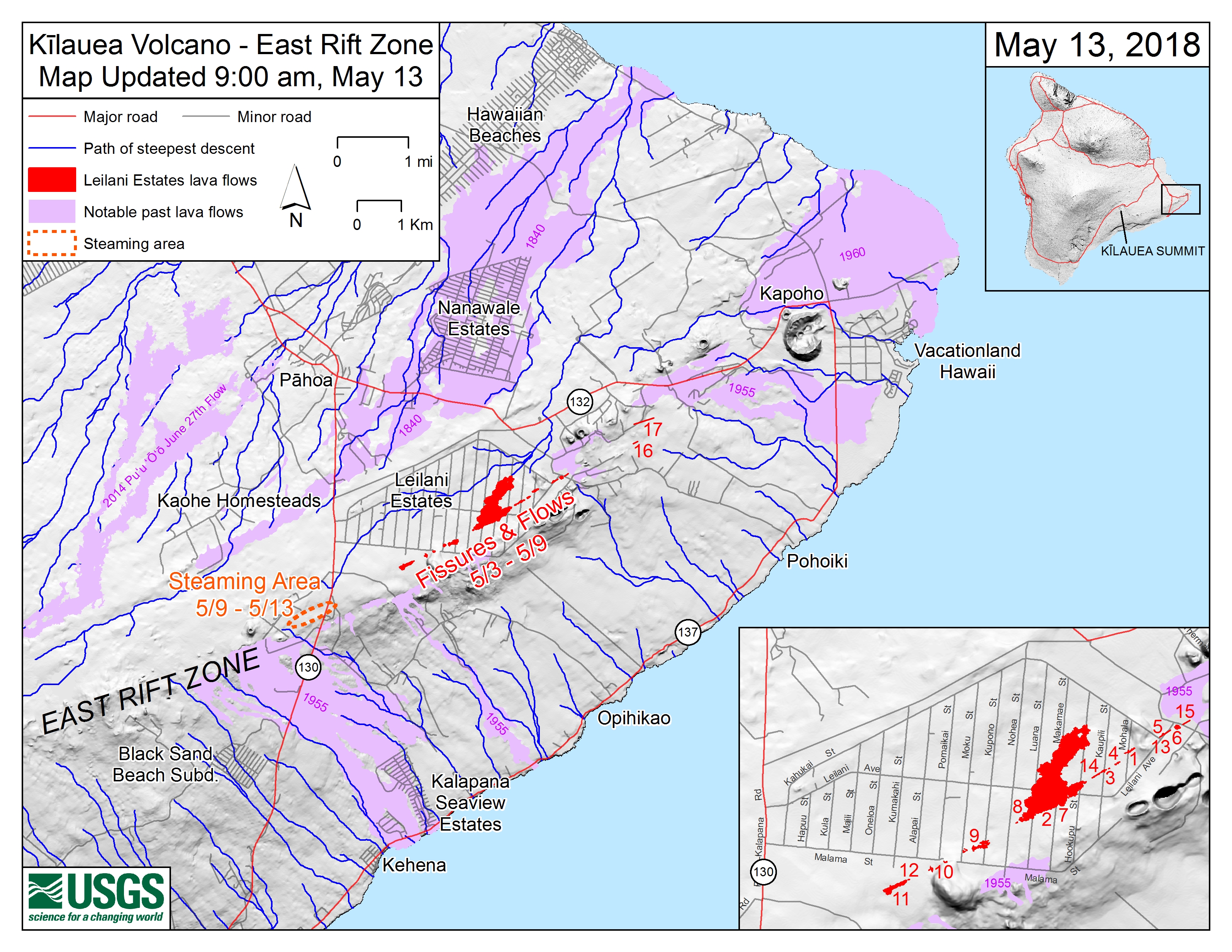 Now that area is up to twenty-two fissures and things are starting to go crazy as of today.  In fact, two of the lava streams have crossed highway 137 and started emptying into the ocean.  And more and more lava is coming out at a very fast clip.  This thing could get out of control very soon if Pele keeps this up.  
Here's yesterday's thermal map of what is happening, and a couple of the flows are looking like real rivers.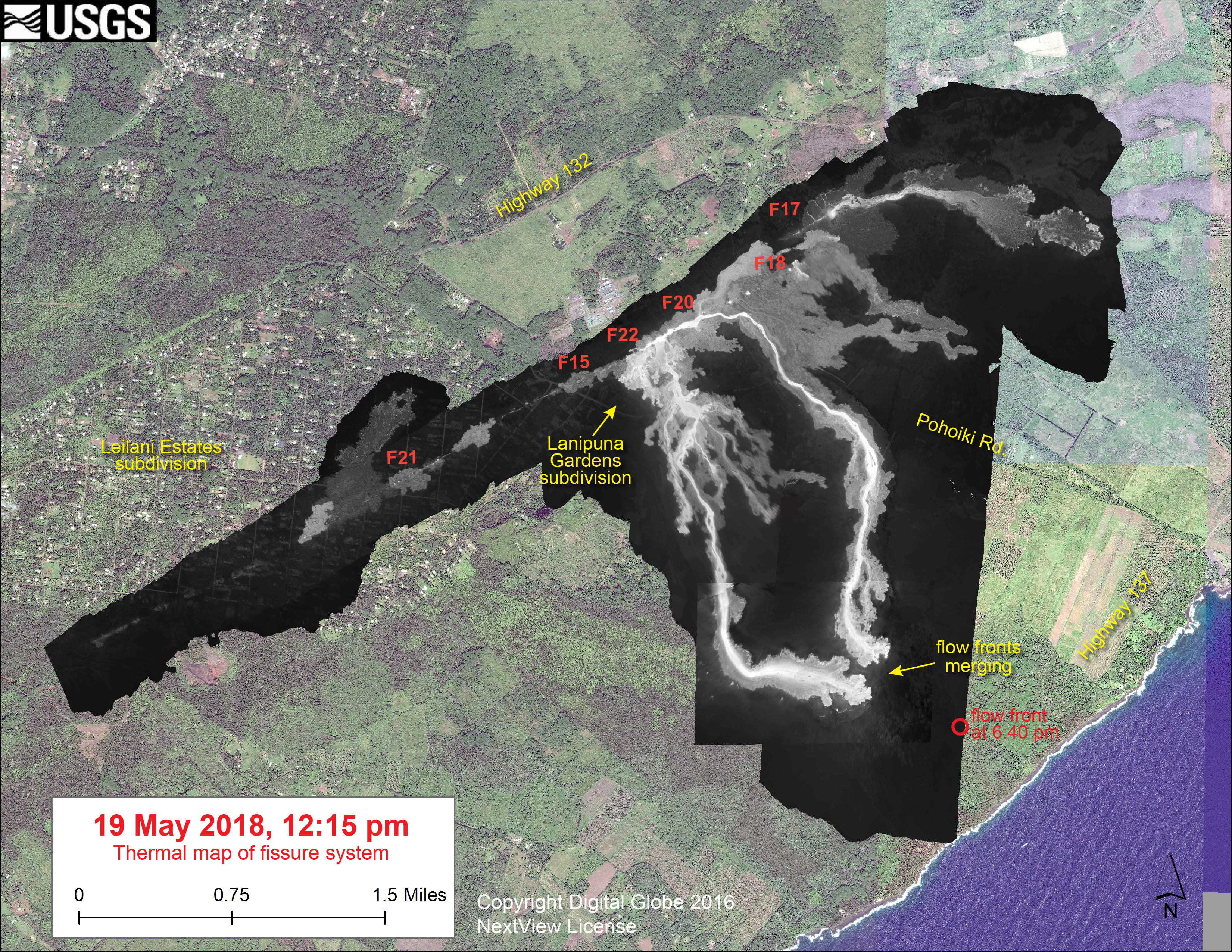 Lanipuna Gardens, the smaller subdivision is really getting reamed.  Fortunately most of the rivers are running through a forest reserve before plowing over Hy 137 and into the ocean.
___________________________________________________________________________________________________
Have a Gneiss Day!