Ok, its well past time for us to realize that Islamic Jihad has come to the US and Canada.  And it isn't going away any time soon.  So, any more terrorist activity can be put here, until it is proven that it is anything but Islam related.  Here's the first article.
Cascade Mall Shooting: The Latest
Quote:Authorities say they have recovered a rifle at the scene of the Cascade Mall shooting. The suspect is still at large, and a manhunt is underway. At this time, police do not have a name or positive identification on the suspect. Early descriptions based on witness accounts described the suspect as "Hispanic"; however, the race of the suspected gunman has not been confirmed by authorities.

Police say the suspect appeared to enter the mall without a weapon, and walked into a Macy's approximately ten minutes later with a rifle. There, the suspect fired multiple times and killed four women at the scene (one man died of his injuries at Harborview Medical Center).

The victims' ages range from "teenager to senior [citizen]."
But here's the most aggravating thing about the article, which follows:
Quote:At this time, authorities do not believe there is evidence to support that this is an act of terrorism.
When are the Whores and authorities ever going to learn that the wording is Bass Ackwards.  It really should say,
Quote:At this time, authorities do not believe there is evidence to support that this is

"Not"

an act of terrorism.
What's the matter with these folks?    
And note him entering the mall without a weapon.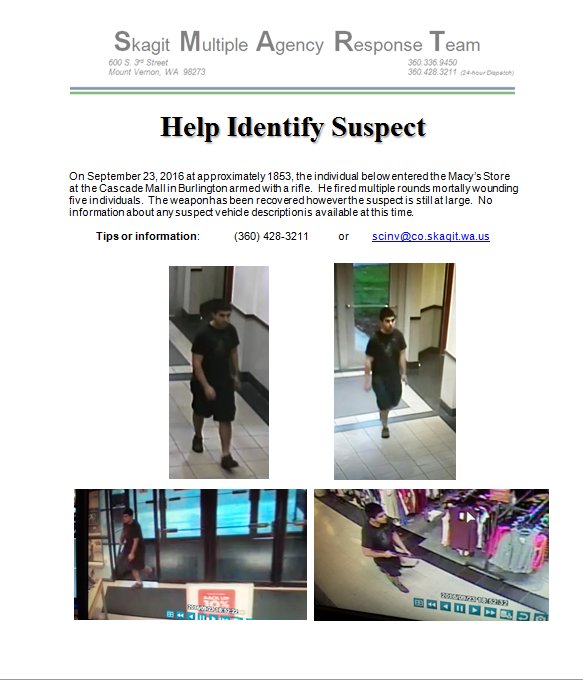 And note that suddenly one appears on his person.  This clearly indicates that the carbine was placed in a secure location PRIOR to the opening of the mall.  Does this mean collusion with others?  Or did it magically appear, as if by magic?  Enquiring minds would Love to know.
And this, according to the Daily Mail:
Did Macy's murderer stash his rifle in the mall before killing five?

Surveillance pictures appear to show 'Hispanic' gunman

enter mall WITHOUT a weapon as police admit they have no idea who he is
. Even the Daily Mail is trying to be PC on this.
___________________________________________________________________________________________________
"INSIDE EVERY PROGRESSIVE IS A TOTALITARIAN SCREAMING TO GET OUT" -

David Horowitz