I know, I know, there are more than enough threads about Climate Change/Global Warming.  But yesterday I was jolted awake by an article by the BBC that led me to believe that this entire fraud is being self-perpetuated by humans the world over.  It all started when
I was directed to a BBC article
about an independent Scotland not being readily admitted to the EU.  I was composing a post about the coming demise of the EU.  And while reading down the article, I happened to glance to the right of the page, and came across this.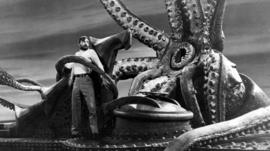 Deepest fears


The human need for monsters that lurk in the dark
What the..............................?  So, I went to the site, and began reading.  It certainly wasn't a psychological article as to exactly why humans are really addicted to things that are scary or evil.  But one part made my inner alarm clock go off.  About half of the way down a paragraph opened with "
The monster needed no embellishment - this creature was scary enough, and Verne incorporated as much fact as possible into the story, says Emily Alder from Edinburgh Napier University.
"  
And that sentence is what set me off.  What about monster stories that really do need embellishment of the highest order?  What if it requires constant dire predictions of death and destruction, pain and suffering, and even extinction?  What if the less the public is transfixed, the more dire, and loud, the pending alarm?  Will it finally reach the point of persecution and even murder?
Obviously, this is exactly what is occurring with the Global Warming Fraud, and has elevated it to the world's largest scientific fraud in human history.  And it is why so many world citizens are so frighten by the prospect of a burning planet.  It is fear of monsters and secondly those who are using this fear to obtain their own agenda.  That is it: nothing more, and nothing less.  Its one huge Godzilla, The Day After Tomorrow, and 2012, all rolled into one.  
Let's face it,
humans are addicted to disasters
, and the fear of "things that go bump in the night".  Good news?  Who Cares.  Its the bad things that rivet our attention.  
And there us such an industry, dedicated to making profits from it, that it encompasses everything, including science and politics.  And this is obviously why the coming Global Warming Disaster scenario is so compelling to so many.  And no matter how many times it is pointed out that the percentage of forecast disasters that come to fruition are so miniscule, compared to actual events, people are still more than willing to believe all it as fact.
Believe it or not, there is not a whole lot of scientific study out there covering this human frailty, that I could find.  I did numerous searches, and just couldn't come up with the piles of information that should be out there, concerning this phenomena.  Perhaps I'm looking in all the wrong places?
Here are some of the articles, that address this in a general sense.
Appetite for Destruction: Why Are Americans So Obsessed with Disaster?
 An entire industry has been built around our obsession with catastrophes, but where does that interest come from?
The Culture of Calamity: Disaster and the Making of Modern America
Psychology: Why Bad News Dominates The Headlines
But try as I may, I couldn't find any studies or articles written about the connection with disaster addiction and the Global Warming issue.  Well, actually there was one, but it was from a satire site:
"I Was A Global Warming Porn Addict"
.
Has anyone come across any psychological studies where this is part of the thesis, linking it to the AGW issue?   I honestly believe this is a major reason why this entire thing has managed to be such a huge cultural issue.
___________________________________________________________________________________________________
All men are frauds. The only difference between them is that some admit it. I myself deny it.


H. L. Mencken