I accidentally came across this thing, apparently well-erased from history: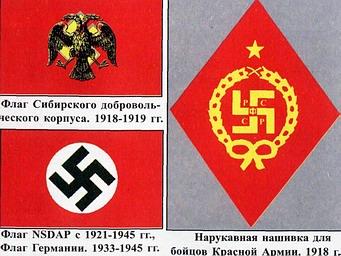 The picture on the right was used by Red Army on an armband in 1918. The letters in the drawing are Cyrillic R.S.F.S.R. Wow.
The official story is that NSDAP took the symbol from Ancient India... but perhaps it was brought to Germany by those Germans who fought for the Reds in Russian Civil War? Ideological affinity, you know, NSDAP was a radical socialist movement....
Alfred Rosenberg would be one guess, but likely a wrong one -- he fought on the other side. But it might be interesting to check the bios of early NSDAP members to see just who might have come up with the design.