I've been slowly but surely rebuilding my back deck. Here's what it looked like last year, when it was partially obscured by my first self-irrigating garden.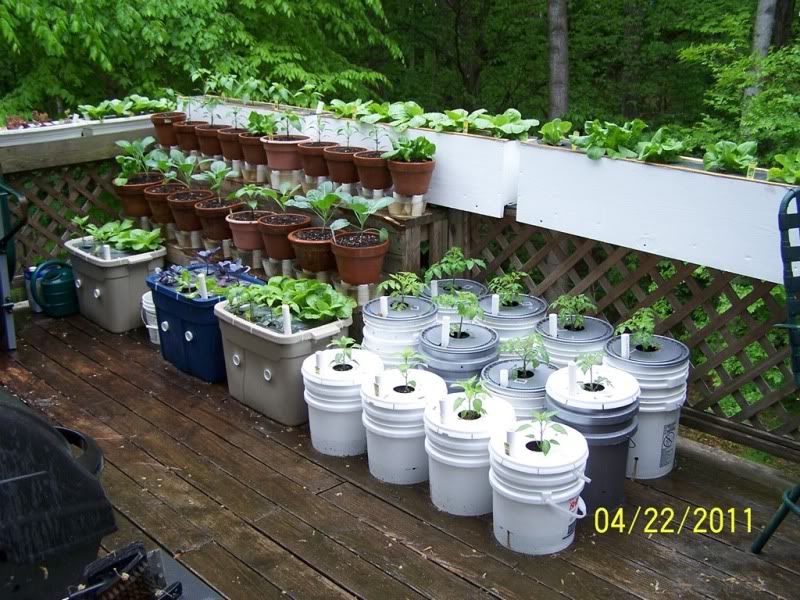 The fact that there were so many trees in the back yard, which is on a slope, the deck deteriorated much faster than normal. So this spring I did a complete survey of everything, and decided that the underlying frame was still in pretty good condition, even though it looked old and darkened. But it was still sound and worth keeping.
So I figured out how I was going to replace all the floor boards, the lengths and all. Then I added some underlying planks where the boards would butt together, allowing me to set everything with screws, and not too close to the end of each plank.
I reapplied 5/4" X 6" thick planks like before, but this time I used 1/4" spacers between each plank. The old ones were too close and didn't allow debris to be swept through the cracks.
I managed to get the decking done before all the heat descended on the Raleigh area. But once it arrived, I just halted everything and waited for things to cool down. This week the weather was perfect: cool pretty much all day, and rarely a cloud in the sky. Perfect!
This week I tore out all the banisters, railings, and lattice work. But I did leave the 4" X 4" portion of the frame, and surrounded them with cut up 2" X 6" boards. Then I took 2" X 6" lumber and used them for both upper and lower railing.
I also took cut 2" X 4"s and ripped them in half, using them for upper and lower bracing on which to attach all the slats with screws. Here's some pictures.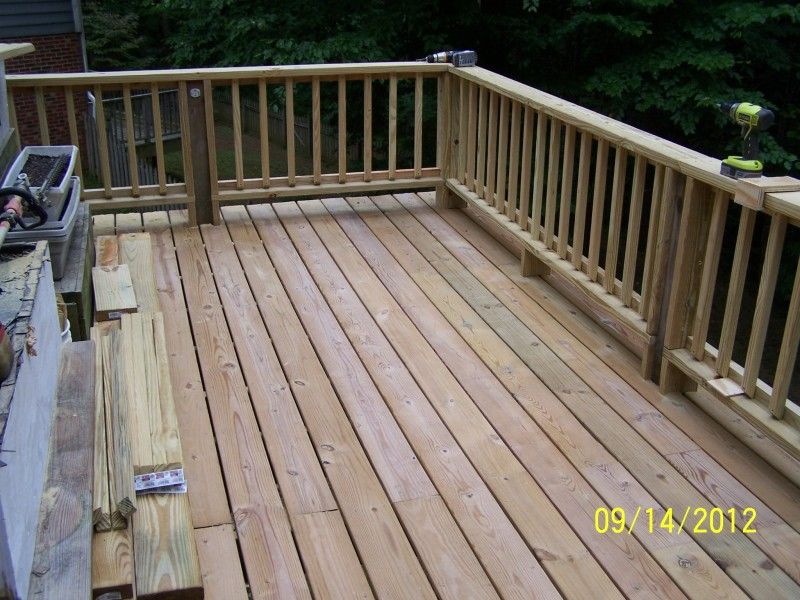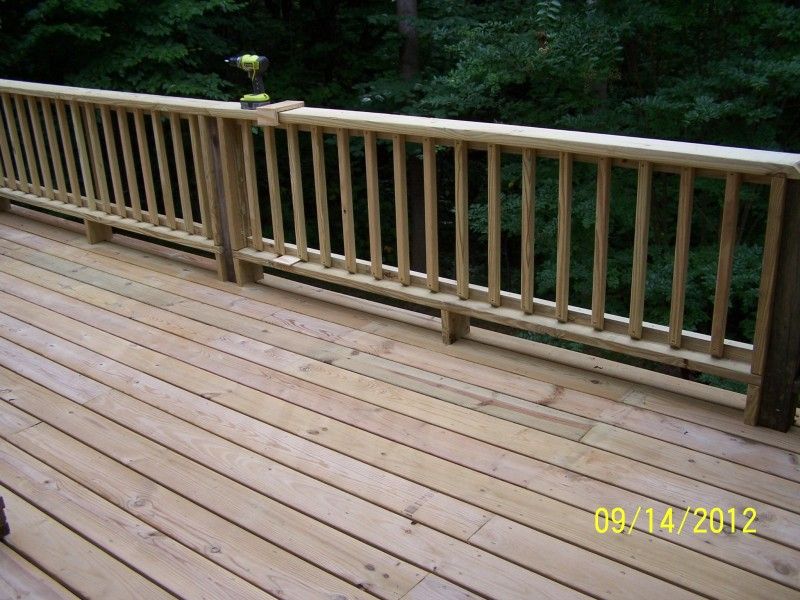 Everything on this deck was attached with screws. No nails or air staples/nails. I have a real nice air system that I use in my business, but decided that screws are the best way to do.
On top of that, about three months ago, Lowes cleared out it inventory of decking screws, because they were the wrong colour, or something. Everything was dirt cheap, and large 5lb containers of screws were the same price as the 1lb boxes, regularly priced. So I scarfed up all different lengths, more than I needed. But I can use them in the business, so I really got a pile of them before they disappeared from the shelves.
The drill in the far corner I used to predrill screw holes, and the newer Ryobi in the foreground is fitted out with the star shaped bits that drive these screws.
Also you can see my home made jig that I used for upper and lower spacing for all the slats. I measured the horizontal opening between each post, and used a calculator to figure out the desired size of the spacer. Then I cut the slats to size, and use the jig, which worked out perfectly on each section.
Now I have one more portion of the deck to finish, which you can see right here.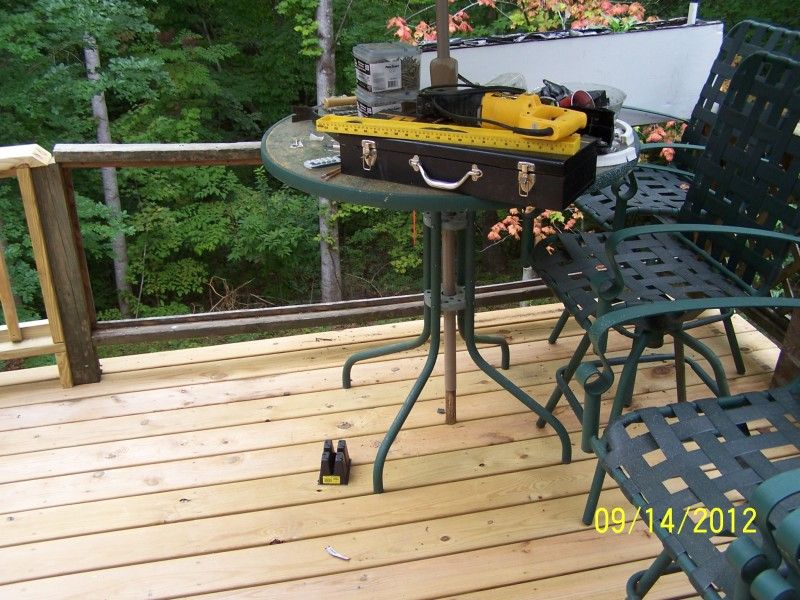 As soon as I can get Mike to help me move the self-irrigating planter, which is heavy, I will finish up that end. And lastly, I'll do the steps, which are a bit complicated. But I can do all that at my leisure, since the actual deck will be done.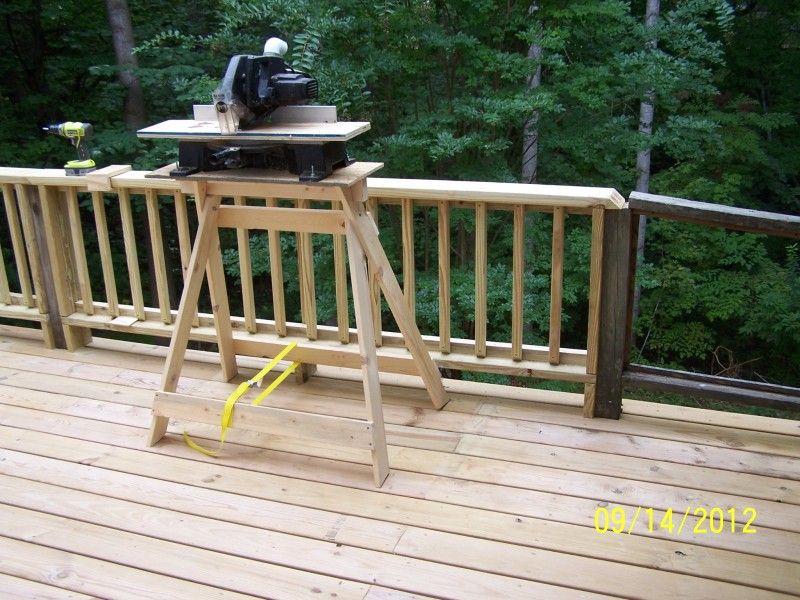 I used a home made sawhorse, from directions I found on the internet, and posted about on another thread. It needs to be a little wider, because I used a 2" X 4" X 10' board, and a couple of large sliding levelers for cutting the boards. The short 2" x 4" is in the top of the sawhorse right now so as to be able to take the pictures.
Anyway, that's where I am right now, so far.
___________________________________________________________________________________________________
"INSIDE EVERY PROGRESSIVE IS A TOTALITARIAN SCREAMING TO GET OUT" -

David Horowitz