John Wrote:I'm still trying to figure out what happens to someone who disregards Compulsory Voting and simply does not vote? What will benevolent authorities do, place a lien on their home, send them to jail, castigate them with harsh language, or just turn a blind eye? Will the State exercise it's ability to use force, by rounding up the non-voters and "fill in the blank"?
No one is frog marched to a polling station, you can opt not to vote but there is a penalty, in Australia it's a fine, in the UK, where the electoral roll is combined with household registration for local taxation, it's quite possible that non-voters would not qualify for a 'voter's discount' on their council tax, this would act to incentivise voter participation.
Paladin Wrote:Forcing one to vote may be OK in a democracy,but not in a free nation. I think Saddam actually mandated this,sounds about like Britain to me.
As above.
No nation is free of a citizen's responsibilities, you have your children attend school, you take part in jury service, you pay your taxes and if called upon you defend your country, why should voting not be a civil duty too?
Iraq under Saddam was rather a different proposition...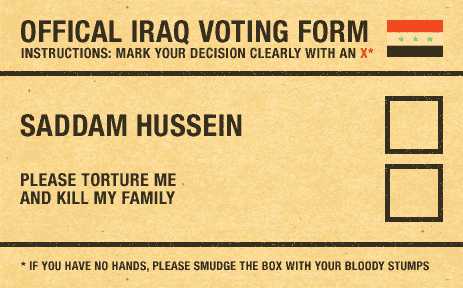 "Common sense is not so common" - Voltaire