---
Imprimus - WmLambert - 10-22-2010

Hillsdale College is one of the few heroic institutions that refuses to take Federal money. It puts out a monthly publication by the brightest and honorable thinkers who are worthy of our readership. This is

Imprimus

. In recent months it has featured analysis from John Bolton, Burton Fulsom, and Amity Shlaes. This issue ends with:

Amity Shlaes Wrote:...The Monopoly board game reminds us that economic growth isn't mysterious and inscrutable. Economic growth depends on the impulse of the small businessman and entrepreneur to get back in the game. In order for this to happen, we don't need a perfect government. All we need is one that is "not too bad," whose rules are not constantly changing and snuffing out the willingness of these players to take risks. We need a government under which the money supply doesn't change unpredictably, there are not too many "Go to Jail" cards, and the top hats are confident in the possibility of seeing significant returns on investment.

Recovery won't happen from the top. But when those at the top step back and create the proper conditions, it will happen down there on the board—one house at a time.
How pleasant if the regime in charge would appoint historians to be in charge of the economy, instead of disproved losers like Christine Romer, Goolsbee, and Cutler.


---
Imprimus - WmLambert - 10-22-2010

Hillsdale College is one of the few heroic institutions that refuses to take Federal money. It puts out a monthly publication by the brightest and honorable thinkers who are worthy of our readership. This is

Imprimus

. In recent months it has featured analysis from John Bolton, Burton Fulsom, and Amity Shlaes. This issue ends with:

Amity Shlaes Wrote:...The Monopoly board game reminds us that economic growth isn't mysterious and inscrutable. Economic growth depends on the impulse of the small businessman and entrepreneur to get back in the game. In order for this to happen, we don't need a perfect government. All we need is one that is "not too bad," whose rules are not constantly changing and snuffing out the willingness of these players to take risks. We need a government under which the money supply doesn't change unpredictably, there are not too many "Go to Jail" cards, and the top hats are confident in the possibility of seeing significant returns on investment.

Recovery won't happen from the top. But when those at the top step back and create the proper conditions, it will happen down there on the board—one house at a time.
How pleasant if the regime in charge would appoint historians to be in charge of the economy, instead of disproved losers like Christine Romer, Goolsbee, and Cutler.


---
RE: Imprimus - WmLambert - 10-20-2015

Tom Cotton may be my new hero.

Follow his commentary in

Imprimus

.


Tom Cotton Wrote:

Foreign Policy and the Constitution



Tom Cotton was elected to the U.S. Senate from Arkansas in 2014, following one term in the U.S. House of Representatives. He serves on the Senate Banking Committee, the Senate Intelligence Committee, and the Senate Armed Services Committee. A graduate of Harvard College, he studied government at the Claremont Graduate School and received his J.D. from Harvard Law School in 2002. In 2005, he was commissioned as a 2nd Lieutenant in the U.S. Army, rose to 1st Lieutenant, and served deployments in Iraq with the 101st Airborne and in Afghanistan with a Provincial Reconstruction Team. His military decorations include the Bronze Star Medal, Combat Infantry Badge, and Ranger Tab.

The following is adapted from a speech delivered on September 15, 2015, at Hillsdale College's Sixth Annual Constitution Day Celebration in Washington, D.C.



In the last week, President Obama moved ahead with a nuclear-arms control agreement with a mortal and unrepentant enemy, having the support only of a rump, partisan minority in Congress. This dangerous turn of events offers an occasion to reflect on the state of American foreign policy today and on the Constitution's place in our foreign policy.



Over the past 25 years, a major preoccupation of foreign-policy elites has been to forge a new grand strategy for the United States. Scholars and practitioners tend to see a foreign policy adrift after the fall of the Soviet Union, when containment of Soviet expansion became obsolete overnight. Seeing no major ideological or military rival, some believed the Owl of Minerva had taken flight, and that the end of history had reduced the need for strategic thinking. Alas, that fantasy came crashing down along with two big towers 14 years ago this month. Again, foreign-policy elites searched for a new strategy, this time for the age of Islamic terror.

Circumstances do change, and foreign policy, often a matter of prudence, must change with them to achieve the same ends. Too often, however, the search for a new strategy simply becomes the search for something new. This way of thinking carries a hint of disdain for the principles and foreign-policy traditions of our past—and disdaining those principles and traditions is a mistake. When the makers of breakfast cereals roll out a new product, after all, they say it's "new and improved," because the former doesn't necessarily imply the latter.

Likewise, every new and fashionable idea in foreign policy isn't necessarily an improvement. To the contrary, we ought to pay some respect to older foreign policy ideas—the ideas that took us from a small and weak colonial outpost to the greatest superpower in history in just 170 years. With that track record, common sense would suggest there's something special we can learn from the Constitution—and the strategies that arose from it—to help us chart our way in the world.

* * *

Our Founders gave us a constitutional democracy, a system of government that informs our foreign policy just as it does our domestic policy. For many foreign-policy elites, especially those abroad, this is a serious problem for U.S. foreign policy. The Constitution empowers the people, these critics say, and the people, they believe, can be ignorant, emotional, and fickle, swinging wildly from war mongering to isolationism, from moralism to callousness. Far better, they say, is what Walter Mead has called the "auteur theory of foreign policy"—a foreign policy guided by a brilliant strategist, insulated from the unruly masses.

One hears an echo of this viewpoint in the praise for what these critics see as the coherent and decisive strategic thinking of Russia's Vladimir Putin and China's Xi Jinping. Putin is praised as a brilliant strategist who is redefining 21st-century warfare. Xi has been called a game-changer in China's rise, one whose ambitions and power rival those of Mao Zedong and Deng Xiaoping.

I'll admit that Putin and Xi may have stolen a march on our president here and there. But that's an indictment of President Obama's particular abilities and policies, not of our system. By the traditional measures of international influence—economic might, per capita measures of well-being, military and trade cooperation agreements, cultural weight—the United States far outpaces both Russia and China, as well as the rest of the world.

And while a brooding auteur may in fact have strategic foresight, intellect, and prudence, no man is infallible, no matter how talented. Napoleon, brilliant general that he was, still marched the Grand Armée across the Nieman River into Russia. Otto von Bismarck toiled for decades to unify the German states, only to see his fragile work undone a few years later by Wilhelm II's militarism and adventurism. In the same way, I believe that over time Putin and Xi—to say nothing of North Korea's Kim Jong Un or the ayatollahs in Tehran—will also miscalculate and suffer strategic setbacks.



But the United States is different from these regimes. Our constitutional system doesn't depend on brilliant leaders. "Enlightened statesmen," as Madison wrote in Federalist 10, "will not always be at the helm." Our system is based on individual rights, safeguarded by well crafted, ultimately democratic institutions. While we always hope for wise leaders, our Constitution works in their absence by filtering the wisdom of the people through those institutions.



This approach couldn't be more at odds with the auteur theory of foreign policy. From that perspective, our system looks like some kind of policy-making Frankenstein. Authority is divided between the executive and the legislature, and the executive itself is divided among competing departments. The president and secretary of state serve short tenures compared to the kings and ministers of the Old World. Equal representation of states in the Senate gives considerable influence to regional interests. The arcane rules of the Senate, along with the separation of powers itself, slow the whole process down. How could this ever work?

Yet it does, again and again. The talent of a single leader or a small group with outsized control over foreign policy can never match the moderation, prudence, and self-correcting capability of our constitutional democracy over the long term. And in international relations, it's the long term that counts.

In the realm of domestic policy, these ideas are familiar. Our constitutional system works to ensure that all the individuals, interests, factions, lobbies, and others who influence and are influenced by domestic policy are more or less satisfied—or perhaps minimally dissatisfied. And the same thing plays out in foreign policy. America's foreign policy tradition is flexible, agile, and multifaceted, and it therefore tends to produce positive results for us in a complicated world.

Again, I cannot stress enough how alien and unfashionable this way of thinking is in Foggy Bottom and in the West Wing, not to mention European ministries. Among many foreign-policy elites, these democratic influences are something to be suffered and overcome—as we've seen most recently in the debate about the Iran nuclear deal.

In the end, though, we usually survive mistakes by particular leaders because leaders are not the foundation of our system. The foundation of U.S. foreign policy is the views and values of the American people, filtered by elected representatives through democratic institutions, proven by time.

This foreign policy tradition is not an accident. When designing the Constitution, the Founders were very conscious of the need to invest the federal government with strong foreign-affairs powers, while accounting for the interests of the states and the people.

A driving force behind the Constitutional Convention was the failure of the Continental Congress to manage the foreign affairs of the young republic. This imperative was clear in the ratification debates. The first five papers of The Federalist are devoted to the necessity of blunting the influence of foreign powers and to the organization of U.S. military power. Fifteen additional papers focus on international relations and civilian control of the military.

Against this background, the Constitution could be understood not only as a national charter, but also as a strategic document. The institutions established by the Constitution to channel the conduct of foreign policy imply certain principles of foreign policy. We ought to keep these timeless principles in mind as we craft strategy for today's world.

One principle we find in the Constitution is so simple it's usually overlooked: the states are stronger as a Union than as separate powers. A Union of the states overcame divisions of culture, economic interest, and military capacity—divisions that would have been exploited by foreign powers to turn one state against another, and to weaken and cow the American continent into submitting to their designs.

A Union strengthened the collective power of the states in their foreign relations. It allowed them to pool their various resources to create advantages of scale and scope in military and economic power. As Federalist 4 states, "The people of America . . . consider union and a good national government as necessary to put and keep them in such a situation as, instead of inviting war, will tend to repress and discourage it." Further, "If [foreign powers] see that our national government is efficient . . . our trade prudently regulated, our militia properly organized and disciplined, our resources and finances discreetly managed, our credit re-established, our people free, contented, and united, they will be much more disposed to cultivate our friendship than provoke our resentment." Conversely, if the states remained divided, the U.S. would earn not only the "contempt" of foreign nations, but their "outrage."

This principle came under threat—but survived—during the Civil War. In his First Annual Message to Congress, President Lincoln sent a clear warning to foreign powers to refrain from interfering in the war. At the same time, he acknowledged that "factious domestic division" exposed the nation to "disrespect abroad."

We may take this principle for granted today, but it's very much in play around the world. The European Union, for example, has a greater combined population and economy than the U.S. But political division greatly reduces the EU's role in world affairs. The smaller nation-states of Central and Eastern Europe, in particular, find themselves at risk from—or perhaps at the mercy of—Russia. Likewise, the countries of the Asia-Pacific region, from South Korea to India, worry about China's aggressive drive for regional hegemony. Yet they struggle, due to their own enmity and rivalries, to form a united strategy to counter China.

The primacy of Union gives rise to a second, subsidiary principle: treaties with foreign powers are very serious business, ought not be entered into lightly, and must be widely supported across the country.

The Founders believed the violation of major foreign commitments was a chief source of friction and war in international relations. In fact, Federalist 3 recognized only two sources of war: direct violence and the breach of treaties. Thus the Constitution requires that a major foreign commitment that binds our nation have a broad consensus among the people, and not result from the parochial interests of a minority or even a narrow majority. As matters of war and peace, treaties should reflect a strong Union, not a divided nation.

This principle led to the Treaty Clause, which empowers the president to negotiate treaties, but requires two-thirds of the Senate to approve them and—if necessary—to demand changes. This extraordinary requirement is really just an ongoing expression of the original decision to form a Union. And it has produced a system in which treaties routinely go through many iterations and rounds of negotiations, even after initial signature by the president. Treaties throughout our history carry scores of conditions, reservations, and amendments added by Congress, precisely to ensure widespread acceptance among the people.

This was in fact how the first treaty ratified under the Treaty Clause played out. The Jay Treaty with Britain—negotiated by a co-author of The Federalist—only gained Senate approval on the condition that Jay rework the treaty to add a clause regarding trade between the United States and the British West Indies.

Another principle of foreign policy rooted in the Constitution is that the Union must have a strong military, but one that is at the same time restrained and subject to the control of the people.

At the time of the Founding, a powerful and restrained military was something of an oxymoron. Federalist 11, for instance, states that a strong military—and in particular a strong navy—is vital not only to deter aggression, but also to secure and expand international trade. Yet Federalist 26 recognizes that military might has historically posed a grave threat to individual liberty. This presented what seemed to be a Hobson's choice between a strong military and a weak military, both of which would threaten liberty over time.

But our Founders charted a way out of this dilemma. The Constitution empowered the president, as commander-in-chief, to defend against attack and take decisive military action where necessary. At the same time, it entrusted the people's representatives in Congress with a wide range of foreign affairs powers as a means of fostering prudence, democratic control, and protection against tyranny. Thus only Congress can raise and support armies; only Congress may declare war and invoke the legal obligations and protections that this state of international relations confers; only Congress regulates foreign commerce, and with it control over important levers of influence with foreign nations in order to better relations, exact costs, and prevent war.

* * *

Under President Obama, there has been considerable drift away from all three of these principles. And that drift has contributed to the general drift of U.S. foreign policy. Even former President Carter has said, "I can't think of many nations in the world where we have a better relationship now than when he took over." Our interests are threatened, our alliances are stressed, our honor is stained, and our adversaries are increasingly tempted into new episodes of adventurism and aggression.

The most recent example of this drift is the Iran nuclear deal. This is a major arms-control agreement with a mortal enemy—an enemy with the blood of thousands of Americans on its hands, and for whom "death to America" is a foreign-policy bedrock. And the agreement goes to the heart of the gravest threat facing the world: a terror-sponsoring state armed with nuclear weapons. It is precisely the type of agreement that the Founders intended to be tested and refined by the treaty process. It is precisely the type of agreement implicating matters of war and peace that must be supported by a widespread consensus of the American people.

But the President didn't submit the Iran nuclear deal as a treaty. From the beginning, his intention was to circumvent the people's representatives and obligate the U.S. to the ayatollahs by a mere executive agreement. Instead of rallying two-thirds of the Senate to support the deal, he relied on a tiny, partisan minority to protect his executive agreement from the judgment of the American people.

This is dangerous and nearly unprecedented. Executive agreements are and should be reserved for technical matters. Among the first executive agreements in our history were the 1792 agreements between the United States and other nations to coordinate mail delivery. Executive agreements have also traditionally been used to assign claims and debts between nations. These issues are low-stakes, and are not breeding grounds for armed conflict. They are akin to deciding whether cars will drive on the right or left side of the road. That's why they do not need to be tested by a supermajority vote.

Nuclear weapons agreements are different. The dividing line between subjects reserved for treaties and subjects reserved for less formal scrutiny is not precise at the margins. But this isn't anywhere near the margins. Historically, major arms control agreements that bind the U.S. have almost invariably been reached through treaty. One notable exception was the Agreed Framework with North Korea negotiated under President Clinton in 1994, which aimed at keeping North Korea from becoming a nuclear power. I doubt President Obama would like to cite the North Korea case as precedent—although it surely is a precedent in its contempt for Congress, and likely in its failure as well.

Why did President Obama ignore the Treaty Clause? The answer is stunning. Secretary of State Kerry lamented in testimony to Congress that it is "physically impossible" to get a treaty through the Senate in these polarized times. Of course, this logic could apply to any politically inconvenient part of the Constitution. Moreover, Secretary Kerry must have forgotten that, as chairman of the Senate Foreign Relations Committee, he guided a nuclear arms control treaty with Russia to ratification less than five years ago.

The simple fact is that the President ignored the Constitution because he knew the Senate would reject his deal. This disregard for the Treaty Clause is the height of hubris. It mistakes tunnel vision for principle, closed-mindedness for superior wisdom, and personal legacy for the vital national interest. The nuclear deal with Iran is a travesty, one that betrays our close friend Israel, provides billions for Iran's campaign of terror, and paves the way for Iran to obtain nuclear weapons capability.

Besides the immediate damage to our national security, the deal also damages the foundational principle that major foreign commitments should be backed by a broad consensus of the people as reflected by Congress. This episode, added to the North Korea example, will make it extremely tempting for future presidents to avoid the expenditure of political capital required to pass a treaty. Presidents will be tempted to reach expedient deals on momentous issues, deals that divide rather than unite the nation.

* * *

While the Iran deal is the latest blow to our foreign policy tradition, a long-festering wound is the decline of our military might. Our military has endured 15 years of war and six years of repeated budget cuts. It is now breaking under the burden of a mindless sequestration that indiscriminately cuts across the board and treats every dollar of federal spending equally—whether for defense or for pork. As a consequence, our military is facing a crisis. The Navy has 260 ships—the smallest number since the end of the Cold War. Our Air Force is the smallest and oldest force in our history. The Army and the Marine Corps are on track to drop below 450,000 and 190,000 personnel, respectively—the bare minimum levels our commanders say we need to fulfill our missions.

These unwise cuts to our military call into question U.S. resolve and security commitments. It's not a coincidence that, in the span of a few years, we have seen a revisionist Russia exert its will in Ukraine and in the Middle East, radical Jihadism metastasize across the Middle East and North Africa, China project power over more and more aerial and maritime territories, and Iran out-negotiate us while it spreads chaos across the Middle East through its proxies and clients.

This picture isn't pretty, but as I said earlier, the American foreign policy tradition has a knack for self-correction, for turning the ship around and reversing past mistakes. To make that happen, however, we need to look back to the foundational principles of our Constitution. To restore respect for the Treaty Clause, we must make every effort over the next year to isolate and impugn the President's nuclear deal with Iran as a singular, one-off agreement that ought never to be repeated. We must put every nation and every business on notice that this deal is temporary and unique. They must understand that U.S. sanctions on Iran—either through new legislation or through a new president—will return. We must work to elect a new president who will rescind the Iran nuclear deal—and who will restore the credible threat of force.

Put simply, our allies and our adversaries must understand that this nuclear arms control deal reached by executive agreement is not secure. They have to understand that it is in our interest and in their interest to conclude stable and long-lasting agreements by way of treaties. And all future presidents should see that building consensus through the constitutionally mandated advice and consent of the Senate will afford them a genuine, lasting legacy.

A restoration of the Treaty Clause must be accompanied by a restoration of our military might. Frederick the Great said, "Diplomacy without arms is like music without instruments"—in other words, inert, inaudible, and ineffective. If we want our diplomacy to be effective and our agreements to be strong, we must rebuild our military.

The American tradition has never been to seek war, or to seek it first in a dispute. Lincoln, again in his First Annual Message to Congress, prized diplomacy as a means of defusing tensions with foreign powers and maintaining our "rights and honor." But he also called for a military build-up. "Aggressions," said his Secretary of War Simon Cameron, "are seldom made upon a nation ever ready to defend its honor and to repel insults."

To ensure that we are ready to defend our national honor today, we will need significantly more defense spending than Congress and the President have managed to agree upon in recent years. Our current defense budget is little more than a political compromise, which may be appropriate for highway funding or tax policy, but which is no way to fund a military or to counter rising threats. Congress and the President must return to the foundational principle that our military edge must not be challenged. We must give our fighting men and women the resources they need to deter, fight, and win wars.

* * *

The Founders and generations of statesmen since have recognized the unique advantages with which the United States is blessed. We are a continental nation, and we enjoy the protection of two oceans that separate us from the historic cauldrons of conflict in Europe and Asia. We have abundant natural resources and an industrious society, making us a powerful trading partner. Ours is a people slow to anger, but imbued with a martial tradition and a fighting spirit. Our democratic culture is vigorous, resilient, and cherished by the people. These strengths are channeled by the Constitution into our foreign policy tradition. U.S. strategy abroad—while not successful in every instance—has brought us from being a world-affairs backwater to being the world's superpower.

As we think about our future and new strategies, it would serve us well to look back at old truths. We must hold fast to foundational principles. We must continue our rich foreign policy tradition, and vigorously fight any efforts to undermine it. While each Congress and president will have particular differences, we should all share the same goal: a world of peace and freedom, of prosperity and opportunity, of hope. We have a duty to be true to our beliefs, to use our great power wisely on behalf of freedom, guided by constitutional principle. As Ronald Reagan admonished in his speech to the British Parliament in 1982, "Let us go to our strength. Let us offer hope. Let us tell the world that a new age is not only possible but probable."

One thing I noticed is when Cotton wrote: "The simple fact is that the President ignored the Constitution because he knew the Senate would reject his deal." As we now know, the rump leaders on the Hill didn't reject his bill, but the Ayatollah did.


---
RE: Imprimus - Palladin - 10-20-2015

"The American tradition has never been to seek war, or to seek it first in a dispute"

Offered to buy the US southwest, Mexico said NO and we invaded.

Andrew Jackson invaded Florida and sent a letter to Sec of State Adams "Florida is now the USA" and we went with it. The USA deported the Cherokee in 1832 and as many died % wise as US POWs at Bataan.

Invaded Cuba w/o provocation( unless you still buy the USS Maine incident as Spanish nefariousness), held the Philippines as a colony and ended up with 1 million dead Phillipinos and they did not provoke us in, made war on Germany in 1917 with no provocations( unless the Lusitania 2 years before we entered the war is a provocation enough for a major war effort), made war on Serbia for less logic, made war on Iraq for less logic, made war on Libya for less logic, on Syria for less logic.

That's a heck of a track record for a peaceful bunch. I love peaceful people.


---
RE: Imprimus - WmLambert - 10-20-2015

As to Florida, The Spanish were disinterested in the swamplands of Florida, while fighting a losing war against revolutions in South America. Florida was widely separated from other Spanish claims, and Spain was a poor vacant landlord. The Seminoles straddled the Florida-Georgia border, and made raids into Georgia, retreating back into Spanish-claimed lands. The settlers made atrocities of their own, and the whole area was a blood bath. President Monroe responded to several massacres by sending General Andrew Jackson to occupy the fort at St. Marks and Pensacola.

Secretary of State John Quincy Adams' reply berated the Spanish for not restraining the Indians, and included the following: "Spain must immediately [decide] either to place a force in Florida adequate at once to the protection of her territory, ...or cede to the United States a province, of which she retains nothing but the nominal possession, but which is, in fact, ...a post of annoyance to them." This in effect said "Keep the inhabitants of Florida in line, or we'll do it for you." The First Seminole War, resulted in U.S. acquisition of Florida.

As for the Cherokees, there was a rapid immigration into their hunting grounds due to a gold rush, and President Andrew Jackson said removal policy was an effort to prevent the Cherokee from facing the fate of "the Mohegan, the Narragansett, and the Delaware". In 1815, The US government had established a Cherokee Reservation in Arkansas. The Bowl, Sequoyah, Spring Frog and Tatsi (Dutch) and their bands settled there. These Cherokees became known as "Old Settlers." The solution was to relocate westward to Indian Territory in 1838–1839. The harsh treatment the Cherokee received at the hands of some white settlers caused some to enroll to emigrate west. As some Cherokees were slaveholders, they took enslaved African-Americans with them west of the Mississippi. Intermarried European-Americans and missionaries also walked the Trail of Tears. The rationalization was to save the Cherokee from intrusive civilization, but some were adapting quite well. (BTW, the Arkansas Cherokee are in my family Tree.)

Texas was settled by Spanish missionaries, but the area was sparsely populated with hostile natives and little connection with other Spanish colonies. The Mexican government allowed U.S. settlers to claim land there, and that population became the de facto population. The State became an Independent nation in 1835. However, the Mexican government reneged on its treaty ending the Texas Revolution, and started sending Mexican troops into this new nation. Texas then negotiated with the U.S. to join the union in 1845. Note: the Alamo happened a full year after the Texas Republic became an Independent nation, when Santa Anna, who has been exiled in Cuba returned to Mexica woth assurances he would not fight against Texas.

Mexico lost the Mexican-American War and although the USA had control of Mexico City and all of the nation, it did not want to keep all it had won. It only wanted the northern areas populated by Americans.

After the Treaty of Guadalupe-Hidalgo had been signed, California was headed by an American Military officer administering the laws of Mexico. After gold was discovered, there was a great flood of immigrants and a breakdown in order. The Military urged a civilian government should be formed to secure public order. Zachary Taylor, the hero of the Battle of Buena Vista became Preident and allowed for immediate California statehood, without going through a period of territorial status, first. This stimulated a constitutional convention in Monterey, which decided the status of other states ceded to the U.S. by Mexico, and determined the issue of slavery, just before the Civil War. Slavery was a complicated issue because Mexico had forbidden it to discourage the population growth of Texas, but kept their own peonage system in place.

Cuba? That was the Spanish-American War. Cuba was in a revolution against Spain. The Maine was an outmoded gunship sent to Cuba to protect U.S. interests there and was sunk, probably by coaldamp. The real issue was that earlier Brazil, Argentina and Chile imported modern European war ships. At the time, the entire U.S. fleet could have been destroyed by just one of those ships, due to the the USA government policy of isolationism. By the time the Maine was built, it was already outmoded. After it exploded, the fear was it had been destroyed by a mine. Whether it was or not, it was seen as an intervention in the Cubam War of Independence against Spain, and Spain declared war against the U.S.

That war spiraled out into the Philappines, and the combined forces of Cuba, The Philippines, and the USA defeated the Spanish. Teddy Roosevelt and his ride up San Juan Hill was fought beside the Cubans battling aginst Spain. The result was the 1898 Treaty of Paris, negotiated on terms favorable to the US, which allowed it temporary control of Cuba, which needed our help due to its state after its fight against Spain, and ceded ownership of Puerto Rico, Guam and the Philippine islands. In the Philippines, the USA paid millions of dollars to fix infrastructure there damaged in the war. Our expansionism was actually filling the vacuum caused by Spain's globe-spanning empire crashing down around it's ears.

The more modern wars have their own histories which were not sa damning as posted.


---
RE: Imprimus - WmLambert - 04-11-2016

Here's an Imprimis article that you may find interesting - and also illustrative of how truth is easily compromised by reporters or writers wanting notoriety without bothering to check their facts.

The following is adapted from a speech delivered at Hillsdale College on March 7, 2016, during a program on "Sports and Character" sponsored by the College's Center for Constructive Alternatives.


Charles Leerhsen who did real research on Ty Cobb Wrote:Ty Cobb was one of the greatest baseball players of all time and king of the so-called Deadball Era. He played in the major leagues—mostly for the Detroit Tigers but a bit for the Philadelphia Athletics—from 1905 to 1928, and was the first player ever voted into the Hall of Fame. His lifetime batting average of .366 is amazing, and has never been equaled. But for all that, most Americans think of him first as an awful person—a racist and a low-down cheat who thought nothing of injuring his fellow players just to gain another base or score a run. Indeed, many think of him as a murderer. Ron Shelton, the director of the 1995 movie Cobb, starring Tommy Lee Jones in the title role, told me it was "well known" that Cobb had killed "as many as" three people.

It is easy to understand why this is the prevailing view. People have been told that Cobb was a bad man over and over, all of their lives. The repetition felt like evidence. It started soon after Cobb's death in 1961, with the publication of an article by a man named Al Stump, one of several articles and books he would write about Cobb. Among other things, Stump claimed that when children wrote to Cobb asking for an autographed picture, he steamed the stamps off the return envelopes and never wrote back. In another book—this one about Cobb's contemporary Tris Speaker—baseball historian Timothy Gay wrote (implausibly, if you think about it) that Cobb would pistol-whip any black person he saw on the sidewalk. And then there were the stories about how Cobb sharpened his spikes: before every game, numerous sources claim, he would hone his cleats with a file. In the 1989 film Field of Dreams, Shoeless Joe Jackson says that Cobb wasn't invited to the ghostly cornfield reunion of old-time ballplayers because "No one liked that son of a bitch." The line always gets a knowing laugh.

When I pitched my idea for a book on Cobb to Simon and Schuster, I was squarely in line with this way of thinking. I figured my task would be relatively easy. I would go back to the original source material—the newspaper accounts, documents, and letters that previous biographers had never really looked at. I would find fresh examples of Cobb being monstrous, blend them with the stories that Al Stump and others wrote, and come up with the first major Cobb book in more than 20 years. But when I started in on the nuts-and-bolts research with original sources—the kind of shoe-leather reporting I had learned working at Newsweek in its heyday—it didn't even take me ten minutes to find something that brought me up short.

Cobb being from Georgia—he grew up and is buried in Royston, a town in Georgia's northern hills—I had begun by searching old issues of the Atlanta Journal-Constitution. I quickly came across a curious article written in late 1911, after the baseball season had ended, when Cobb was touring in a three-act comedy called The College Widow. (In those days, ballplayers were tied to their teams by the reserve clause and couldn't sell their services for their true market value; to make extra money, they often capitalized on their fame by appearing in plays or vaudeville.) The writer of the article was recounting a backstage visit with Cobb, and described him as a man who very much wanted to please the audience. Cobb was also going out of his way to accommodate the interviewer (who was asking tedious questions) while simultaneously being hospitable to a second guest—a catcher he had played with in the minor leagues—who showed up in the small dressing room smoking a cigar. It was like the crowded stateroom scene in the Marx Brothers' A Night at the Opera, and meanwhile the play was in progress, Cobb was trying to make costume changes, and the stage manager was barking at Cobb to be on his mark in 30 seconds.

What did this story say about Ty Cobb? On the one hand, he was just doing what any decent person would do—being as polite as possible under trying circumstances. But on the other, Cobb's ordinary decency was exactly the point. For me, with this one story, the myth of the evil Ty Cobb began to crumble.

As I proceeded I found many more stories contradicting the myth. Was he widely hated? An old newspaper clipping reported that the Chicago White Sox gave Cobb an award—remarkably, a set of books; Cobb was known as a voracious reader of history—for being Chicago's most popular visiting player. And it turns out that when the Detroit Tigers were in town, Ring Lardner, Chicago's smartest and best sportswriter, bought cheap seats in the outfield so he could spend the game bantering with Cobb.

Did he steal stamps from children? Letters in museums and private collections make abundantly clear that Cobb responded to his young fans, sometimes with handwritten letters that ran to five pages. And he always told them he was honored by their autograph requests.

What about race? It is "common knowledge" that Cobb was "an avowed racist"—but when and where did he make such a vow and where is it recorded? A 1984 biography of Cobb, written by a college professor named Charles Alexander, is typical. It describes three people who fought with Cobb—a night watchman, a bellhop, and a butcher—as being black. Such evidence was enough for documentary filmmaker Ken Burns, whose made-for-PBS series Baseball described Cobb as an embarrassment to the game because of his racism and cast Cobb as the anti-Jackie Robinson.

But Burns, like so many others, was letting himself be misled by the oft-repeated myth. Looking into census reports, birth certificates, and contemporary newspaper accounts, I found that all three of the black fighters cited by Charles Alexander were in fact white. Yes, Cobb had also fought with two black men during his life, but those fights didn't have racial overtones, and Cobb—who had an extremely thin skin—fought with many more white men. So how did such a distinguished author make such obvious mistakes? When I asked Alexander about this, he simply replied, "I went with the best information I had at the time."

But what about Cobb's 19th-century Southern roots? How could someone born in Georgia in 1886 not be a racist? What I found—and again, not because I am the Babe Ruth of researchers, but because I actually did some research—is that Ty Cobb was descended from a long line of abolitionists. His great-grandfather was a minister who preached against slavery and was run out of town for it. His grandfather refused to fight in the Confederate army because of the slavery issue. And his father was an educator and state senator who spoke up for his black constituents and is known to have once broken up a lynch mob.

Cobb himself was never asked about segregation until 1952, when the Texas League was integrating, and Sporting News asked him what he thought. "The Negro should be accepted wholeheartedly, and not grudgingly," he said. "The Negro has the right to play professional baseball and whose [sic] to say he has not?" By that time he had attended many Negro league games, sometimes throwing out the first ball and often sitting in the dugout with the players. He is quoted as saying that Willie Mays was the only modern-day player he'd pay to see and that Roy Campanella was the ballplayer that reminded him most of himself.

Cobb was, like the rest of us, a highly imperfect human being. He was too quick to take offense and too intolerant of those who didn't strive for excellence with the over-the-top zeal that he did. He did not suffer fools gladly, and he thought too many others fools. He was the first baseball celebrity, and he did not always handle well the responsibilities that came with that. And yes, he once went into the stands and repeatedly punched a man who had been heckling him for more than a year, and who turned out to have less than the full complement of fingers—hence the story of him attacking a handicapped fan. This is a mark against him. But was he a racist and an embarrassment to the game? Far from it.

Cobb's mind-boggling statistics don't tell half the story of the ballplayer he was. It is often not remembered, because there is very little motion picture footage of him, but Cobb was likely the most exciting player of all time. Yes, he got thousands of hits with his unusual split-hands grip, and that in itself was entertaining; but it was what happened after he got on base that set him apart. "Ty Cobb getting a walk is more exciting than Babe Ruth hitting a home run," a sportswriter once said.

When Cobb made it to first—which he did more often than anyone else; he had three seasons in which he batted over .400—the fun had just begun. He understood the rhythms of the game and he constantly fooled around with them, keeping everyone nervous and off balance. The sportswriters called it "psychological baseball." His stated intention was to be a "mental hazard for the opposition," and he did this by hopping around in the batter's box—constantly changing his stance as the pitcher released the ball—and then, when he got on base, hopping around some more, chattering, making false starts, limping around and feigning injury, and running when it was least expected. He still holds the record for stealing home, doing so 54 times. He once stole second, third, and home on three consecutive pitches, and another time turned a tap back to the pitcher into an inside-the-park home run.

"The greatness of Ty Cobb was something that had to be seen," George Sisler said, "and to see him was to remember him forever." Cobb often admitted that he was not a natural, the way Shoeless Joe Jackson was; he worked hard to turn himself into a ballplayer. He had nine styles of slides in his repertoire: the hook, the fade-away, the straight-ahead, the short or swoop slide ("which I invented because of my small ankles"), the head-first, the Chicago slide (referred to by him but never explained), the first-base slide, the home-plate slide, and the cuttle-fish slide—so named because he purposely sprayed dirt with his spikes the way squid-like creatures squirt ink. Coming in, he would watch the infielder's eyes to determine which slide to employ.

What of the stories about him sharpening his spikes and injuring opposing players? Cobb believed strongly that the runner had the right of way in what he called "my little patch," in front of the bag. The opposing players who were asked to comment on him respected his ability and consistency, and agreed with his "little patch" theory. "It was no fun putting the ball on Cobb when he came slashing into the plate," said Wally Schang, who caught for almost every American League Club. "But he never cut me up. He was too pretty a slider to hurt anyone who put the ball on him right." Infielder Germany Schaefer, a teammate of Cobb, called him "a game square fellow who never cut a man with his spikes intentionally in his life, and anyone who gets by with his spikes knows it." And if Cobb could dish out the punishment, he could also take it. Catcher Steve O'Neill of the Cleveland Naps once favored Cobb with the greatest compliment a catcher can give: "He came home on a base hit and I was blocking the plate. I got him in the kidneys and knocked him out. When he came to he didn't say a word. He just got up and limped out to his position."

There is a famous photograph that is often used to indict Cobb. It shows Cobb and St. Louis Browns catcher Paul Krichell in 1912. Cobb appears to be flying foot-first into Krichell's crotch while the catcher squints in pained anticipation. But there is a 1950s interview with Krichell, then a scout for the Yankees, and by his own testimony, Cobb was aiming his foot at the ball in Krichell's glove, and succeeded in knocking it to the backstop. Here is Krichell's account: "The ball hit the grandstand on the fly. I was mad and stunned. Cobb was mad and shaken. In a way it was really my fault. I was standing in front of the plate, instead of on the side, where I could tag Ty as he slid in. But out of that mix-up I learned one thing: never stand directly in front of the plate when Cobb was roaring for home."



To the extent that the myth of Ty Cobb is connected to his aggressive style of play, it has seeds in his playing career. People in those days were fascinated by spikes—an adult fan in the early days of baseball had almost certainly not played the game, and thought of spikes as exotic. The legend of "the man who sharpened his spikes" had been around since at least the 1880s, and had been attributed to many, including John McGraw. And some sportswriters—understanding that sports is less about scores than about storylines, and that without antagonists stories fall flat—were willing to fan the flame and depict the aggressive, unpredictable Cobb as a dirty player. Many of the quotes I found from opposing players defending Cobb's style were in response to charges that he was a spiker. To a man, they said he wasn't. And in 1910, Cobb wrote to the American League president asking that players be forced to dull their spikes so that he might be free of the dirty-player charge.

In that sense Cobb was always controversial. But how did he come to be portrayed as a monster? After he retired in 1928, he stayed out of Major League Baseball, and the game changed to a slugger's sport. It became the game of Ted Williams, Joe DiMaggio, and Mickey Mantle, and Cobb faded from memory. By the late 1950s, when Cobb went on the TV quiz show I've Got a Secret, the panelists not only didn't guess his "secret"—"I have the highest batting average of all time"—they couldn't identify him by sight. Cobb didn't like that, and he disliked even more being remembered as a dirty player. As he grew older and less healthy he became obsessed with setting the record straight, and he started to shop around an autobiography. Doubleday & Co. agreed to publish it and assigned a ghostwriter, Cobb being too ill to write it himself. For this job they picked a man who was known for quantity over quality, a hard-drinking hack newspaperman named Al Stump.

Stump, who had never met Cobb, spent only a few days with him before setting off to write. For several months he refused to show Cobb the work in progress, and when Cobb finally prevailed upon the publisher to give him a look, he was angry. Stump was filling in the gaps by making up stories out of whole cloth, and Cobb's voice in the book sounded suspiciously like Stump's own. Cobb wrote letters threatening a lawsuit if the book wasn't cancelled or rewritten. But he died soon thereafter, and the book—entitled My Life in Baseball: The True Record—came out a few months later.

Stump also struck a deal with a sensationalist barber shop magazine called, ironically, True. For $4,000, a tidy sum in 1961, he would write a seamy tell-all about what it was like to live and work with Cobb in his final days. Stump had negotiated the fee by pitching the tale of a wild man drinking to excess and driving around the Lake Tahoe area waving a gun at (unnamed) people, cursing at (unnamed) emergency room doctors, flinging drinks at (unnamed) bartenders, and waking up an (unnamed) bank president in the middle of the night—in person, with a gun—to stop a $5 check. All the women in Cobb's family feared him, Stump wrote, again without naming names. Furthermore, he may have killed some unnamed person, though he was never prosecuted and the story never made the newspapers. Everyone in baseball had hated him, Stump claimed, adding meanly and dishonestly that only three people went to Cobb's funeral.

It didn't matter that sportswriters rushed to Cobb's defense, saying they had visited his homes in Tahoe and Georgia during this same period—had spent more time with him than Stump, in fact—and never witnessed such behavior. It didn't matter that all of Stump's sources were anonymous, all his quotes unidentified, and that Stump himself had been banned from several newspapers and magazines for making things up. It didn't matter that Cobb's family had put out the word that his funeral was a private service, or that four of his closest friends in baseball did attend, or that thousands of people packed the church and lined the way to the cemetery. Despite all this, people thrilled to the story of the monstrous Cobb. And the story got a lot of attention because no one had ever written anything like this before about a major sports figure.

The next big development came in 1984, when Charles Alexander published his book. The word "racist"—non-existent in Cobb's time—was by then very much a part of the lexicon, and people were eager to make assumptions about a Southern white man. A decade later, director Ron Shelton bought the screen rights to Stump's True magazine article and urged Stump, still alive, to write yet another book—a biography this time—that would serve to promote the movie. This 1994 book, also entitled Cobb, was a huge bestseller and was excerpted in Sports Illustrated. Then came Ken Burns' Baseball documentary, which parroted Stump and Alexander. And the myth grew further with the rise of the Internet—search for "Ty Cobb" on Twitter and see what you find.

I knew going into this project—having been at one time an editor at People magazine—that human beings take delight in the fact that the rich and famous are often worse and more miserable than they are. What I didn't understand before was the power of repetition to bend the truth. In Ty Cobb's case, the repetition has not only destroyed a man's reputation, it has obliterated a real story that is more interesting than the myth. Is it too late to turn things around? John the Evangelist said, "The truth will set you free." But against that there is the Stockholm syndrome, whereby hostages cling avidly to what holds them in bondage.

I guess it's me versus Al Stump. Who knows who will win? What I know for certain is that the greatness of Ty Cobb was something that had to be seen, and to see it was to remember it forever.

One of the things I find so amazing about Ty Cobb, is his unorthodox spread-hand grip on the bat - and how no one has ever tried it, even though he was the all-time greatest hitter in baseball. From Al Stump's book, I remember how he hated how Babe Ruth was "ruining" the sport for going after personal stats, rather than helping his team win games. Sports writers were lauding his home runs, while Cobb was just winning games. He told the sports writers to watch him for two weeks to show what happens if he put his hands together to swing for the fence. During that demonstration time he hit more home runs in a shorter time than Ruth ever had - yet his team's winning record took a nosedive. He went back to his spread-hand grip and his team took back the league lead.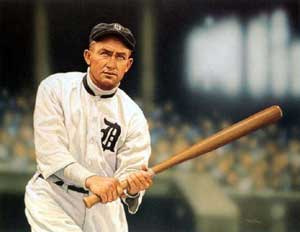 ---
RE: Imprimus - Palladin - 04-12-2016

"How could anyone born in 1886 not be racist"?

Any Christian who valued Christ more than their culture could. Not many did down here, but, there were some folks who did.

I honestly think my paternal grandparents would have welcomed a poor black person into their home in the 19th century. Not my maternal side, that grandmother was a great lady, but, a typical white person born in the 19th century down here.

Dad's mother was maybe the most unique person I will ever meet, she truly loved God intensely and you can't love God and hold hostility to someone over what they look like.


---
RE: Imprimus - John L - 04-12-2016


(04-12-2016, 10:41 AM)

Palladin Wrote: "How could anyone born in 1886 not be racist"?

Again, you are mixing up words.  The question above is absurd, if you know the difference between "racist", "bigoted", and prejudiced.  There is a difference, and below are but just two sites that explain the difference. 

Remember, Words Mean Things. 

The problem with most folks these days is that they are so linguistically lazy that they can't be bothered with facts.  Its like that lazy misuse of the word "Liberal".  There's not a G-d Damned thing Liberal about the Progressive Left except their mouths spewing out all their Statist horseshit.   But

 the point is that even back in 1886, while there may have been more racists then, they were not anywhere a majority.  Most of your 'so called' racists were just prejudiced, and mostly through ignorance.  



Prejudice, Discrimination, Bigotry and Racism Are Different

Prejudice, bigotry and racism: Is there a difference?

-It's prejudice when Mr. Smith feels unhappy when Mr. Johnson moves in next door because he doesn't like Mr. Johnson's skin color or ethnic identity.

-It's bigotry when Mr. Smith refuses to invite Mr. Johnson into his home or offer him friendly waves of greeting.

-It's racism when Mr. Smith uses threats and intimidation to attempt to drive Mr. Johnson and his family out of the neighborhood.

Here's another great definition of the distinction between all of them.


Quote:Prejudice:
The word prejudice refers to prejudgment: making a decision before becoming aware of the relevant facts of a case or event. The word has commonly been used in certain restricted contexts, in the expression 'racial prejudice'. Initially this is referred to making a judgment about a person based on their race, religion, class, etc., before receiving information relevant to the particular issue on which a judgment was being made; it came, however, to be widely used to refer to any hostile attitude towards people based on their race or even by just judging someone without even knowing them. Subsequently the word has come to be widely so interpreted in this way in contexts other than those relating to race. The meaning now is frequently "any unreasonable attitude that is unusually resistant to rational influence".[1] Race, sex, ethnicity, sexual orientation, age, and religion have a history of inciting prejudicial behavior.

Bigotry:
A bigot is a person who is intolerant of opinions, lifestyles, or identities differing from his or her own, and bigotry is the corresponding state of mind. Bigot is often used as a pejorative term against a person who is obstinately devoted to prejudices even when these views are challenged or proven to be false or not universally applicable or acceptable.

Rascism:
Racism, by its definition, is the belief that race is the primary determinant of human traits and capacities and that racial differences produce an inherent superiority of a particular race. People with racist beliefs might hate certain groups of people according to their racial groups. In the case of institutional racism, certain racial groups may be denied rights or benefits, or get preferential treatment. Racial discrimination typically points out taxonomic differences between different groups of people, even though anybody can be racialised, independently of their somatic differences. According to the United Nations conventions, there is no distinction between the term racial discrimination and ethnic discriminiation.
They all mean similar, yet different things as you can see.
---
RE: Imprimus - WmLambert - 04-12-2016

Although those definitions are accurate, something needs to be included, and that is how beliefs and opinions are created and reinforced, and also how these beliefs and opinions are factual or disingenuous. After all, a person who was taught something by a respected authority figure is often acceptive beyond logic, and when reinforced becomes respected at a religious level, where more than logic is needed to offset it.

The song in South Pacific, "You've Got to be Carefully Taught" is quite perceptive:

You've got to be taught
To hate and fear,
You've got to be taught
From year to year,
It's got to be drummed
In your dear little ear
You've got to be carefully taught.

You've got to be taught to be afraid
Of people whose eyes are oddly made,
And people whose skin is a diff'rent shade,
You've got to be carefully taught.

You've got to be taught before it's too late,
Before you are six or seven or eight,
To hate all the people your relatives hate,
You've got to be carefully taught!

My point is that good people can hold bad beliefs that are wrong, and genuinely accept them as righteous. They might not even be ignorant or hypocritical - just in the wrong place at the wrong time to be propagandized or brain washed. The language may be crafted to refer to separate different shadings of beliefs, but how they become ingrained can be very similar.


---
RE: Imprimus - WmLambert - 03-03-2017

Latest

Imprimus

deals with Intelligence:

Here.



Quote:Back in January, when U.S. intelligence chiefs released an unclassified version of the briefing they gave to President-Elect Trump about Russian efforts to influence the November election, Americans learned a phrase that's unique to the world of intelligence: key judgment. It was a key judgment that Russia had hacked into John Podesta's email server, and a key judgment that Vladimir Putin preferred Donald Trump to Hillary Clinton. Since these key judgments understandably erupted into a nasty political brawl, let's take a moment to understand what a key judgment really is. Simply put, it's the conclusion reached by our most senior intelligence officials, based not only on the evidence they were able to collect, but also on the insights it enabled them to reach based on their knowledge and experience.

...So why has our intelligence service suffered so many failures during the last decade or so, losing the trust of so many? Because it's been run by career bureaucrats and administrators who rose to the top by managing intelligence rather than actually doing it.
---