Anyone having news of events outside the earths gravity well, and not directly linked to other science topics, please place them here in this thread.
This can include comets, sunspots, and other misc. news.
For example here is something that is getting meteorologists hearts all aflutter:
Massive Sunspot Rapidly Forming
. Here is how the Weather Channel erroneously put out its 'so called' information:
Quote:According to a news release, scientists from NASA's Solar Dynamics Observatory watched the sunspot rapidly grow on February 19 and 20. The agency says it could even be larger than six times the diameter of Earth "since the spot lies on a sphere not a flat disk."

Sun activity goes through cycles that stretch about 11 years. Currently the sun is moving toward the peak of a very energetic cycle which scientists expect to last through the middle of this year.
First of all, the sun is so huge that a spot just six times the size of the earth, is really quite small. Sunspots this size are very common. Unfortunately, 99% of 'low information' citizens don't know this.
Further, Sunspot Cycle 24(the one we are currently in) is anything "very energetic". In fact, it is downright placid, and I am being charitable here.
But lets move on to another site that is affiliated with NASA: SpaceWeather.com. Here is what they had to say.
Quote:CHANCE OF FLARES: New sunspot AR1678 has developed a delta-class magnetic field that harbors energy for strong explosions. NOAA forecasters estimate a 45% chance of M-flares and a 15% chance of X-flares during the next 24 hours. Solar flare alerts: text, voice.
What that really means is that we will almost certainly have a Class 'C' flare, at the least. But there is only a 45% chance of a Class 'M' flare. And get this, only a 15% of a Class 'X' flare, which is the biggest.
And on top of that, the flare is rapidly moving out of alignment with us, and may well be facing away when it erupts. The odds of unusual electromagnetic flux is less than good.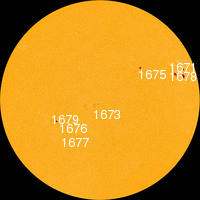 But the Weather Channel, which has its hat resting on the AGW rack, knows that solar flares are associated with a warmer planet, and thusly, they are crossing their fingers and praying for an unusual burst.
I am not holding my breath here.
___________________________________________________________________________________________________
All men are frauds. The only difference between them is that some admit it. I myself deny it.


H. L. Mencken