Wow!  This is Amazing.  I haven't been following this all that closely, but from what I have read of the latest CNN article, the rift between Qatar and the other Gulf states have been around for some time.  And Apparently the main ingredient has been of sponsorship of Islamic terrorism.  And here I was thinking the Saudis were the heavies in all this.  
Here's the article I mentioned:
Middle East freezes out Qatar: What you need to know
.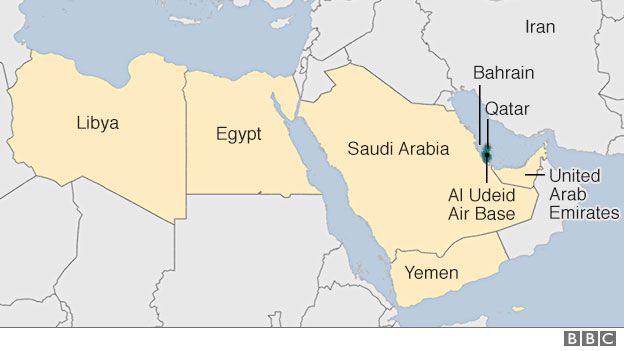 Quote:Qatari nationals are now officially on notice to leave neighboring countries within two weeks after an unprecedented diplomatic freeze of the nation by key allies and neighbors.

Saudi Arabia, the United Arab Emirates, Egypt, Bahrain, Yemen and the Maldives said that from Tuesday they are indefinitely severing ties with Qatar --- a country of nearly 2.3 million people, mostly foreign workers.

Those inside the country are stockpiling food and contemplating what life might look like under diplomatic isolation -- an almost imaginable predicament for a wealthy country, yet one that relies almost solely on imported food.

Qatar has said the justification for the freeze -- allegations that it supports terrorism and destabilizes the region -- are "unjustified" and "baseless."

Here's what you need to know to get up to speed:



What's changed?



-- Saudi Arabia has severed all land, sea and air links with Qatar, and the UAE has closed its airports and harbors to Qatari flights and shipping.
-- Etihad, Emirates, Fly Dubai and Gulf Air have halted all flights in and out of Doha, the Qatari capital. Qatar Airways says it's halting flights to Saudi Arabia.
-- Qatari diplomats have been given notice to leave their foreign posts.
-- Qatari citizens have been told they have 14 days to leave Saudi Arabia, Bahrain and the UAE, and those countries also banned their own citizens from entering Qatar.



So what's behind it?



It's complicated.

Gulf allies have repeatedly criticized Qatar for alleged support of the Muslim Brotherhood, a nearly 100-year-old Islamist group considered a terrorist organization by Saudi Arabia and the UAE.

The UAE accused Qatar of "funding and hosting" the group in its statement announcing the severance of ties.

However, analysts say the rift is also driven by the belief that Qatar is too closely aligned with Iran.

Saudi Arabia and Iran are at odds over a number of regional issues, including Iran's nuclear program and what Saudis see as Tehran's growing influence in the kingdom's sphere of influence -- especially in Syria, Lebanon and neighboring Yemen.

Qatar and Iran share the largest underwater natural gas field in the world. But recent Gulf reports have charged the relationship goes beyond resource management, accusing Qatari officials of meeting with the head of Iran's Revolutionary Guard Corps.
There's more at the link, and I recommend you read it, because this thing has some serious consequences.  The question of food alone is monumental.  And the effect on Qatar's state airline, which is one of the largest in the world, will be in serious trouble, since they are not allowed to cross Saudi and other allies' air spaces.  
Oh, now this $110B arms deal Trump made with the Saudis has far more depth to it than was first thought.