C3 Headlines
EXCERPT:
Read here. Not only are U.S. temperatures below climate model predicted values, but global temperatures are also not behaving in the mode of the "consensus" IPCC climate models that represent the supposed 97% of scientists who say climate science is "settled." (click to enlarge charts)
LINK
==============================================================================================================
From here,
Flooding due to record snows and second fastest decadal cooling period in the record not warming
is this revealing chart:
Quote:So why is this not the result of global warming. WELL, BECAUSE WINTERS ARE COOLING....AT THE SECOND FAST DECADAL RATE OF ANY PERIOD SINCE 1895!!! (8.14F/decade or 81.4F per century! - only the decade ending in 1950 had a slightly greater cooling, a -0.85F/decade). This is true in the Missouri River basin and the country as a whole with a cooling of 4.13F per decade) Here is the winter trend the last decade for the NCDC North Central Regions over which the Missouri River flows - Montana, Wyoming, North Dakota, South Dakota and Nebraska.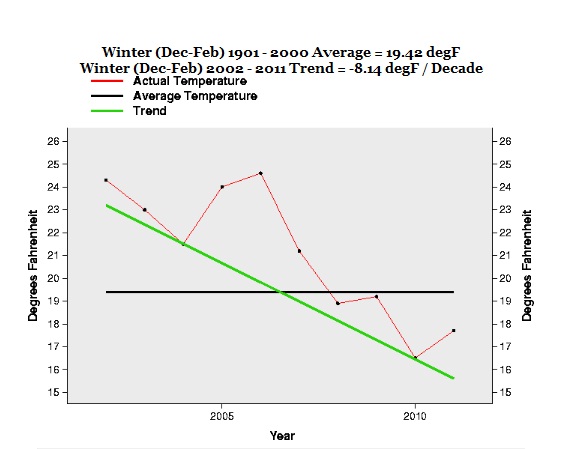 When will CO2 haters admit that the tide has turned?
It is COOLING in every climate metric these days and that is undeniable.
Those past IPCC based modeled temperature projections are based on the AGW hypothesis.But as you can see.It is failing badly.
Epic fail actually.Since the projections based on actual past climate events.Indicate a distinct cooling trend for the next 50+ years.Maybe even into another little ice age?